The laptops with Chrome OS, called Chromebooks, still do not get the recognition and acceptance that Google would like, but that does not stop the company from working on this operating system. Recently, we have learned, for example, that it is preparing a feature to restore a Chromebook from an Android phone and that it is going to collaborate with Valve to bring Steam to the Chromebooks.
At the same time, different manufacturers continue to renew and expand their equipment catalog with Chrome OS. Last CES left us the proposals of Samsung, ASUS and Lenovo, and now it is Acer who has just announced the Acer Chromebook 712, with military resistance, a 12-inch 3:2 screen and the latest tenth-generation Intel Core processors.
Military resistance and a more productive format
Aimed at the education sector (as is usually the case with these devices), Chromebook 712 includes two child safety certifications (ASTM F963-16 and UL / IEC 60950-1) and several features to increase its durability and resistance. On the one hand, it has passed the tests of the military standard MIL-STD-810G, and on the other hand, it has a keyboard resistant to liquid spills, mechanically anchored keys and a reinforced hinge of 180 degrees so that it does not break when the computer is lifted by the screen.
The 12-inch IPS display has a resolution of 1366 × 912 pixels, features a 3:2 aspect ratio (which, according to Acer, improves productivity because there is no need to scroll too much to see all the content) and is available in both non-touch (C871T) and touch (C871) versions. It also features two USB-C 3.1 ports for data transfer and charging, as well as two full-size USB-A ports.
Configurations are available with Pentium and Celeron chips as well as 10th generation Intel processors (up to Core i3). There are also two storage options (32 and 64 GB), two RAM options (4 and 8 GB) and a battery that promises to reach 12 hours of autonomy. Its features are completed with a microSD card reader, an HD webcam, dual-band WiFi with WiFi 6 support, a 3.5 mm headset jack and Bluetooth 5.0.
Price and availability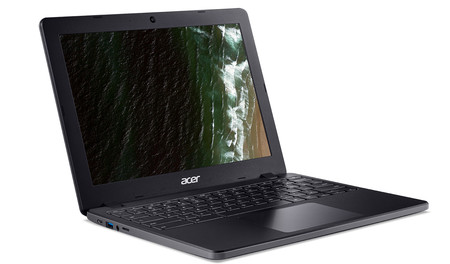 The new Acer Chromebook 712 will be available, as we said, with 32 GB or 64 GB of eMMC storage and 4 GB or 8 GB of RAM. It will go on sale to educational and commercial customers in Europe and Asia in May at a price starting from 299 euros. It will arrive in the United States a little earlier in March at a price starting at $329.99.
For more info, visit Acer.