There are mobile games like Happy Wheels that we enjoyed on other platforms years ago, even though they were not classics or were recognized for their quality. Despite the absurdity of their approach, and the questionable graphic quality, the truth is that the game gave a lot to talk about at the time. Because who wouldn't want to break their skeleton on a bicycle through a series of macabre obstacles?
One of the keys to Happy Wheels is precisely the absurdity of its approach: riding a bicycle (and other vehicles with wheels) along a rough road where you have to jump over various obstacles or loop without falling, always trying to ensure that nothing happens to the character, something almost impossible given the complexity of some screens. If this is something that calls your attention, the good news is that Happy Wheels has arrived in an Android version and is now available in Google Play Store.
Happy Wheels for Android: slightly complicated controls, same fun
Almost ten years ago Happy Wheels came to the browsers in the form of a web game (it still exists in that form). Simple graphics, very complicated obstacles to overcome, controls that were difficult to get used to and a whole series of macabre accidents that filled YouTube with a multitude of videos where father and son (the game's most chosen characters) ended up without a healthy bone. If you played it at the time and had fun with the experience, maybe you'll want to go back to the experience on your mobile phone, although well, now you're 10 years older and maybe you don't like video games anymore 😔.
Happy Wheels has officially landed on Android by the hand of Fancy Force, the original developers. The aesthetics, the characters, the movements are identical; with the controls adapted to the touch screen, of course. In this sense, we'll have the rotate buttons on the left side of the screen and the advance buttons on the right; adapting them according to the character's conditions. Happy Wheels has more than 60 levels and you can play any level, no matter if you didn't complete the previous ones, in short, it's a game that offers complete freedom for the players.
You have to jump canyons, avoid spikes, do pirouettes trying not to break in half (literally), accelerate until you lift the bike off the ground and many more crazy things, all with the risk of ending up in the hospital. Or what's worse: torn to pieces. As you might suspect, Happy Wheels is a pretty 'gore game'.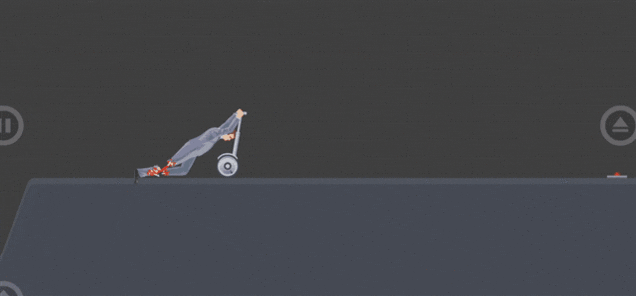 As you might suspect, Happy Wheels is a pretty 'gore game'
Maybe it's not a game that will go down in history, although in a way it already has, but it will certainly entertain many people with the games and their difficulty. Happy Wheels is already available in Android (in iOS it is in version 1.1.5), the download is free, it has ads and it has purchases inside the app to remove those ads. The good thing is that it works without internet; so anyone can avoid all the ads if they simply play the game in airplane mode.
In short, Happy Wheels is a simplistic game that is very well thought out and by its very simplicity becomes an "addictive" option for video game lovers without many graphic pretensions.
The good thing about this is that it consumes very little space in the phone's memory and can be played, as already mentioned, without necessarily being connected to the Internet, which becomes an excellent distraction alternative for those people who are not friends of acquiring navigation data packages for your phones.
Happy Wheels