MTP, mass storage, MIDI, PTP, shared connection… a strange language for many.
With a mobile phone we can carry out many tasks wirelessly. Even charging the phone is possible in more and more models on the market, but USB ports are still in use and we can connect our phone to a computer to carry out different tasks such as charging, or transferring photos back and forth.
The usual thing when we connect the mobile to the computer through a cable is that the phone itself shows us different options to configure the connection. The mobile needs to know what we are going to do to allow us access to different functions, and it is convenient to know what each one of them does in order to choose more accurately. So let's explain what is this MTP, PTP, MIDI and company.
MTP, mass storage, MIDI, PTP, shared connection: different options depending on our cell phone
Android is a single operating system but each manufacturer customizes its features. That's why we can find different USB connection options depending on the brand of phone we have in our hands. We are going to tell you the options of the most common brands, and adding them all up we will have (almost) all the options available in the market.
We can start with Xiaomi, which shows us, for example, three options when connecting the cable. The Chinese brand allows us to cancel the data connection (using the USB only for charging the mobile), enable file transfer or activate the PTP protocol to let us transfer only photos, without access to other types of files. Below we will list the most common options offered by different manufacturers, and then move on to a more detailed description.
As we can see, Android One has its own list of options and it is the one adopted by manufacturers and models that use this system, such as Nokia phones, or some Motorola brand ones. Or also as the phones that use Android One as the Xiaomi Mi A2 or Xiaomi Mi A3.
The different USB connection options for mobile phones
We have already mentioned that the options vary depending on the brand of mobile phone connected to the computer, whether it is a PC or a Mac, but they also change their names slightly. However, the purpose is the same for all of them despite the slight variations, such as the "USB connection sharing" of the Pixel phones which is called "USB Modem" in Samsung. Let's take a step-by-step approach to describing each of the options.
MTP or Multimedia Device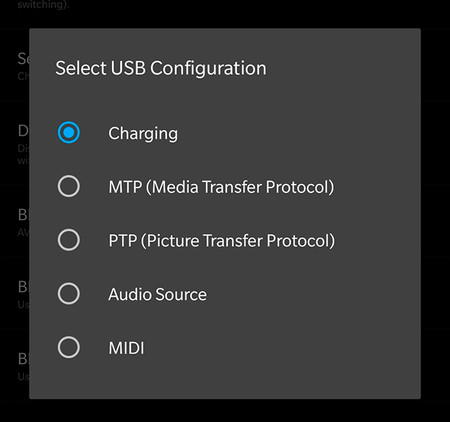 It is curious that this option, which until recently was practically the market standard, has practically disappeared in favour of other combined modes such as "File Transfer", which basically operate as the mass storage mode we will see later. In short, the MTP mode is what turns the mobile phone into a multimedia device in the eyes of the computer, and allows us to access music files, audio recordings, videos and photo recordings from the mobile phone.
In fact, it works in a very similar way to connections to FTP servers, sending commands to the mobile, file lists and transfer requests. The MTP mode prevents us from accessing sensitive files for the operating system, but in return it reduces the speed when operating with the mobile and transferring files. Not to mention that it creates some compatibility issues with Macs and Linux.
PTP or photo transfer
When we connect the mobile to the computer, it offers us different options from which PTP appears and we choose it. What happens then? It happens that in the list of devices of our computer appears one with the icon of a camera, because we have told the connection to operate as if it were a camera. So it will only allow us to transfer images in general, back and forth.
USB mass storage or file transfer
This is an option that we can easily find with both names and the operation in both cases is identical. When we activate this type of USB connection by connecting the mobile phone to the cable we are telling the computer that what we have connected is a USB pendrive, or a USB hard drive. In short, an external drive with its advantages and disadvantages.
The advantages are that we can move any type of file from one side to another, or from the mobile to the PC or vice versa. The disadvantages coincide at this point: being able to access any file means that we can unintentionally perform actions on important system files. Mobile phones are connecting more and more often to this system and we should be careful, although Android tries to hide the most sensitive folders for our own security and to avoid making any kind of mistake when manipulating the files. As we can see, it's something very similar to the MTP system but more advanced, so it has completely dethroned it.
MIDI connection
This connection is one of the strangest we can activate, and at the same time an example of how versatile mobile phones can be. By using it, we tell the mobile that we are connecting it to a musical instrument that allows it to use the same protocol. For example, when we have connected the mobile phone to a keyboard. Of course, this function is not very useful when connecting it to a personal computer, is it? Some apps may ask us for this connection so that we can create our own music directly from the PC.
Shared connection or USB modem
This mode is really useful if we need a wireless connection with our computer (usually a laptop) but we don't have a WiFi connection to connect to. Basically, by activating this option we are telling our mobile phone to become a portable modem to connect to the computer. This way, we will start using the data connection (3G, 4G, 5G) of the mobile to transfer the data to the computer.
This mode is very similar to the function that allows us to turn the mobile phone into a WiFi point, which is usually called "Hotspot" or "Portable Access Point", only this time we will do it through the cable as it may be the case that our computer does not have a network card, and cannot connect wirelessly with the mobile phone.
No data transfer / Charge only
You can imagine it by the name of the type of connection in some systems, the "Charge Only", serves only that purpose. By activating this option, the USB cable that connects our mobile to the computer is dedicated solely to transferring power. Thus, the mobile takes advantage of the laptop to recharge the battery and nothing else. It's as simple as that: turn your computer into an external battery for your phone.
Android Auto
In the connection options of Pixel phones, an option called Android Auto appears, shared on the same line with File Transfer. Basically, this option allows us to tell the phone that we have connected it to a car that has Android Auto, the operating system for smart cars. This way we can carry out all the tasks supported by this system, such as sharing our music or sending locations and so on.
And that's it. These are the options we can find for now by connecting our mobile phone to a computer. We haven't specified the options we find on the iPhone because what Apple devices do when they connect to a computer is look for iTunes, the app of Cupertino's guys, to operate with the mobile.