Normally, when testing applications and games, the interest they generate and which is shown in the large number of downloads they get, is usually linked to the positive ratings they accumulate. Today's case (Blendy! – Juicy Simulation) fulfills the first factor, as right now it is the most downloaded free Google Play app in many countries – such as the United States – or one of the most downloaded in others – such as Spain, where it is in second place.
The surprise comes when we look at its average score – 2.9 or 3 out of 5, depending on the day – and the amount of negative comments it accumulates. The argument of 'Blendy! – Juicy Simulation' also leaves us a bit surprised: all we have to do is put ingredients in a blender, prepare a juice and serve it in a glass. With this in mind, we decided to test the game to see what it is all about.
Recipes, ingredients and containers = Blendy
In the case of Blendy, it's all about the following: each customer asks us for a juice or shake and we have to prepare it. Depending on how close the result is to the recipe, we will get more or less hearts that will serve to unlock new ingredients, recipes, containers and mixers.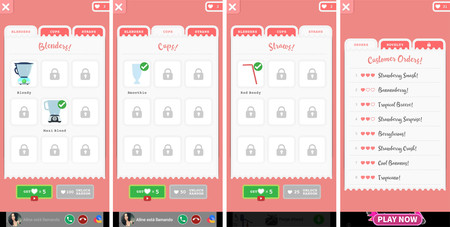 Simply press and hold the display to add more or less auqntities of each ingredient and to grind it for more or less time. The goal is therefore to be able to calculate the right amount of fruit, vegetables or ice and the right time to make the juice, shake or cocktail. It is as simple as that, and at the same time, as absurd to many.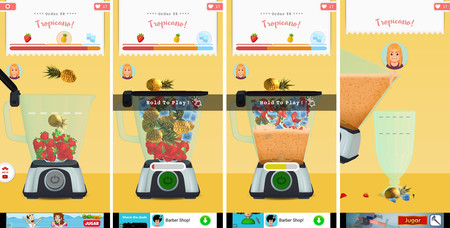 However, it must be acknowledged that the game has a few things in its favour: the aesthetics of the game are very colourful and the accompanying music is not unpleasant (sound effects and vibration can be turned off). The big problem with 'Blendy! – Juicy Simulation' has is, as is often the case, its excessive advertising: ads to unlock ingredients and recipes, ads to obtain gifts, to get more hearts, and endless advertising videos between juice and juice. And if you want to avoid all this, you have to pay $3.29 for the ad-free version.
Blendy! – Juicy Simulation